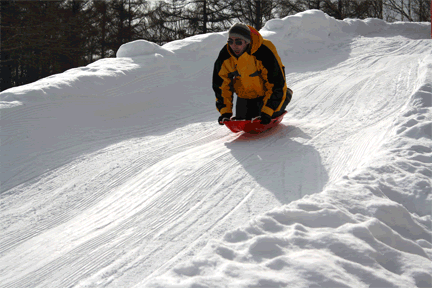 While we were in Sapporo, we traveled to Observation Hill, near the Sapporo dome. We went sledding and got drug around behind a snowmobile in an inflatable boat. We also tried cross country skiing around their mini course. It wasn't fun. In fact it was probably my least favorite part of the trip. I did however learn something from it: I never want to cross country ski again.
Sledding on the other hand, that's always fun.
This cracked us up! Check out what little miss stars and stripes is seeing. That little girl was sledded out. She slept through her dad dragging her around in that sled for a long time. In fact at one point we thought they had left and then here comes Dad, dragging his daughter around again!
After we bullied some sleds away from the surprisingly strong toddlers claimed some unused sleds we had just as much fun as the kiddos. Maybe more. We went faster. And crashed harder.